The Carol-service will be live-streamed on Tuesday evening. You may have to click on the play button to start the stream. There is a full-screen option also. We have no control over the advertisment at the start.
First, Second and Fifth-year Christmas Exam timetables here.
Transition-year students recently visited the mural of the late Nelson Mandela in Belfast. A number of commemorative events will take place in the school this week. The school has a special relationship with South Africa and the Kingdom of Lesotho through its Action Ireland Programme.
Thanks to Ms. O' Driscoll and the Transition-year students who  made Christmas special for the children at the pre-school for children who are members of the Travelling community.

The Carol Service will take place at 7.30PM on Tuesday 10th December in the school Assembly-hall. All are welcome, there is no charge, all we ask is that you come in the real spirit of Christmas. Mince-pies afterwards!
Our suggested Christmas-present book-list for teenagers (here) got some attention on Twitter over the weekend. Remember your Library will also have these books.
Great list of teen recommended reads via @domaho: Christmas reading suggestions for teens / young adults http://t.co/fgyuGb778V #edchatie

— Maria O Sullivan (@MariaMernagh) December 7, 2013
The Student Council and the Prefects are organising a hamper appeal for Brother Kevin's Capuchin Day Centre. We encourage students to donate and believe many will. We will accept any food items students and their families wish to donate  -  the type of items we are looking for are non- perishable basic food stuffs like, Breakfast cereal, Rice,
Pasta, Soup, Sauces, Canned Tuna and Salmon, Peanut Butter, Canned Stews and Chili, Tea Bags, Coffee (ground no beans), Canned Vegetables, Canned Fruits, Packaged Pasta (Macaroni & Cheese, etc. ), Juice Boxes, Granulated Sugar….. (Image: Caphucin Day Centre).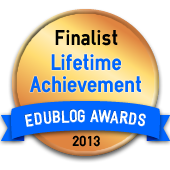 Mr. O' Mahony has been nominated in two categories for the Tenth-anniversary of the International Edublogs awards – Lifetime achievement (contributions via @domaho on Twitter and eLearningIsland) and Best Teacher Blog (eLearningIsland). You can vote for him clicking the "vote up icon" below and log-in using one of your social-media applications.