There was a wonderful surprise in store for the audience at our  Graduation Celebration on Monday 22 May. As parents and teachers replaced our own fantastic choir and sang a beautiful version of 'I hope You Dance' the students were visibly moved and genuinely surprised. The time spent in secret rehearsals paid off and proved to be the highlight of an enjoyable and nostalgic day.
Thanks to Ms Norris, Ms O'Driscoll, Ms McGlynn, Mr Maynes, Mr Fitzgerald the Sixth Year Tutors and everyone involved behind the scenes.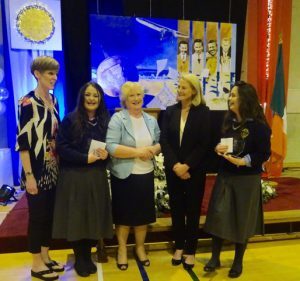 The TY Graduation Evening was a marvelous celebratio
n of the students' achievements during their very busy year. Thanks to Ms Molamphy, Ms Gaffney and the whole TY Team for a great year.
Congratulations too to Aaron Connolly of 1C who was awarded third place in the Irish Junior Mathematics Competition 2017. He is pictured here with his proud Maths Teacher Ms Maher.
Our Students of the Year can be viewed under our Academic Achievement page.