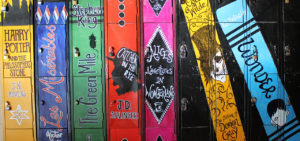 Today, World Book Day 2020, our attention is drawn particularly to students in our school who are finding it hard to practise their Reading and Writing skills while working from home. 

These resources enable students, particularly if English is their second language, to work independently to improve their language skills.
It is a good time for students to reflect on and evaluate their learning which as you know is a key skill of Junior Cycle. 
Do take a look at the following to see if there isn't something for everyone to work on and be challenged to improve at their own pace
Managing information and thinking, being literate. Reflecting on and evaluating my learning (Key Skills of Junior Cycle).
1. Reading
Oxford University Press have made 149 graded readers available for free until the end of June. There are 25 books at A1. You just register (PC and ipad) and choose a book. Students can read a book then decide to challenge themselves to try one at the next level up. Lots of activities, glossary. Students can set up the online Reading Diary which automatically tracks the books they have read, the number of words read and the time spent reading. They can also get a cert which students can download to show the work they have done. It is amazing that this is free and openly available at this time – so make the most if you can.
https://www.oxfordlearnersbookshelf.com/
Graded newspaper articles:
Students can start with reading an article at a particular level then move up to the next level to challenge themselves and see how they get on. Free access to great material but with ads.
https://breakingnewsenglish.com/lifestyle.html
https://www.newsinlevels.com/    Vocab test to help motivate and give feedback on level.
Song lyrics
Lyrics Training App. This App is free and specifically for English language learners. You choose a song, decide on a level and then do a gap fill multiple choice exercise, then do karaoke version of the song. (I did Ed Sheeran's "Perfect" as a Beginner). You can easily replay a line of a song if you didn't catch it. It gives you a score. "Happy" Pharell Williams, "Hello" Adele are some songs on it.
Cambridge Apps
A2 "Exam Lift" KEY for Schools App – new and now available to download for free from the App Store.
B1 "Exam Lift" Preliminary (some content free but €2.29 for full access to all features. Family Share allows up to 6 family members to share).
Quiz your English – games, challenges, invite a friend and leader board. Very teen friendly.
Complete self-access text books with Key(so ideal for self-study) to download:
B1 PET for Schools exam Booster – attached
A2 KEY for Schools: https://issuu.com/cambridgeupelt/docs/9781108682237book_p001-p136_exambooster
Vocabulary development
https://www.englishprofile.org/wordlists/evp
Choose a CEFR level (A1, A2 etc) then choose a topic (education, technology) to see which items of vocabulary correspond to the level. Then click on "detail" and "full view" to see definitions, sample sentences, hear pronunciation (as well as phonetic transcription), part of speech (noun, verb etc). Choose the next CEFR level up to see more words which you might already know. Students can work independently on their general English vocabulary development which will help with their reading as well as their understanding of subject-specific key words. Tutorial webinar with Q&A if you want to know more: https://www.youtube.com/watch?v=7w4982ianQg
Writing practice
Write and improve (mentioned before). https://writeandimprove.com/  Free. Students choose a topic, write a text, submit it, get feedback (on spelling, grammar and vocabulary) via Artificial Intelligence and a grade, they then re-submit to improve and get a new grade. There are badges which reward improvement.
"Class View" is currently free for teachers: You can assign work, see when it is done and track students' progress (ie. see students' work submitted, CEFR grade and a graph showing improvement). No email addresses needed.
There is a tutorial webinar on You Tube to make the most of Write and Improve: https://www.youtube.com/watch?v=rmLCShoeIAc
TEDEd
Ed.ted.com Short (4 min) videos organised by topic with filters for upper and lower secondary. "How do lungs work?", "Teach girls bravery not perfection", "What if all the ice melted?", "The importance of setting in a story", "Think like a coder", "How to make your writing suspenseful". Self-access or guided by you. Not specifically for EAL students (not graded) but are short and can be re-played so some might like the challenge if they choose a topic they are interested in. Comprehension questions to do.