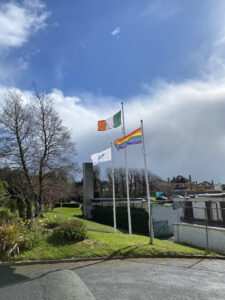 6th May 2021
Re: Junior Cycle School Assessment 2021
Dear Parents/Guardians,
I hope this correspondence finds you all well. Following last week's Subject Department meetings, I am posting details regarding the assessment of Junior Cycle for the Class of 2021 on behalf of the Board of Management.
The assessment of students' learning achievements in each subject is based on the teacher's professional knowledge of each student's learning. Subject Departments have chosen the most appropriate form of school-based assessments to put in place for the third-year cohort.
In many practical subjects, different criteria have been chosen based on the practical components of work completed by students. CBA's for the relevant subjects will also be included in the School Report.
As different Subject Departments have chosen different criteria for assessment, teachers will continue to liaise with the third year students via Google Classroom should they have any queries about the assessment modes
In due course, Third Year students will receive a written School Report on the broad range of learning that they have achieved in each subject. The School Report can be accessed on the school's VS Ware system. You will receive a text to notify you when the reports are available.
At the start of the next academic year students will receive a State Certification that they have completed three years of Junior Cycle education in their various range of subjects. This certification will be provided by the Department of Education and Skills.
I want to take this opportunity to thank all the teachers and members of the school's Pastoral and Care Teams for mentoring, guiding and supporting the Junior Cycle students throughout this year. I also offer my sincere gratitude to you, the parents and guardians of the Junior Cert Class 2021 for supporting us throughout this journey.
I wish continued good health to you and to all families in our wider school community in the weeks and months ahead.
Yours sincerely,
Eithne Deeney Principal/Secretary Board of Management
The breakdown of how each subject is being assessed can be seen here (PDF)