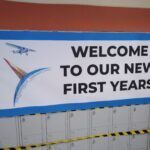 The Assessment will take place on Saturday 28th January from 9.00am to 12.30pm. This is the CAT 4 and is only to provide us with information on student's strengths and weaknesses to enable us to meet their needs. It is not an entrance test and cannot be prepared for. It is multi-choice.
The doors will open at 9.00am  to accept the students. Prefects will be on hand to assist them at the gates as there is no parking on site.
Students should wear their uniform and have pens, pencils, sharpeners and erasers. Students can bring a snack/drink as there will be a break.
Parents are asked that they do not enter the school with their children. To collect your son/daughter please park at the PSLC/surrounding areas and pick them up at the front gates by 12.15pm.
We are looking forward to meeting our future PCS students on Saturday. Please communicate that there is nothing to fear in the assessment and no preparation is necessary or possible.