Chinese (Mandarin) Beginners
Portmarnock Community School Adult Education Programme:
现在学中文
Suitable for beginners or those with some experience of the language. First, you will get to grasp with some Chinese characters. Chinese characters are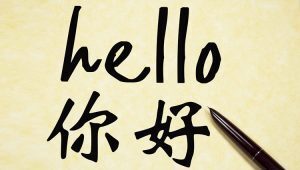 taught according to the character formation system. Pinyin is introduced to the students from the very beginning. The Pinyin above the Chinese characters is then gradually removed to ensure a smooth learning transition for students. Once the students have a good grasp of radicals and simple characters, they will be able to analyse most of the compound characters encountered. Memorising too any new characters in a natural and logical manner. Speaking practice will involve the students using simple Chinese in a spontaneous way to communicate basic real life situations. Using real life situations and scenarios with emphasis on both accuracy and ultimate fluency in Mandarin Chinese.

We are currently not offering this course for the Jan 23 term. Please contact us to register interest for future dates.
About the Tutor: Cindy Min Tang
Cindy is a professional Chinese language teacher. Generally being passionate about languages, she considers herself to be a well-focused teacher. She is a tenacious and motivated person with a positive teaching attitude. She possesses the ability to communicate effectively with Chinese language students at all study levels and from all backgrounds.