Special Needs Assisting QQI L6
Portmarnock Community School Adult Education Department.
Run in conjunction with the Progressive College of Education:
This QQI Level 6 Special Needs Assisting Course is designed to meet the training needs of those working or volunteering as a Special Needs Assistant. The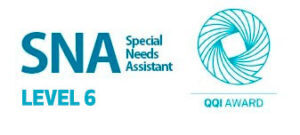 course aims to develop skills, knowledge and understanding of the role of the Special Needs Assistant and promote good practice among those working in the school system. Topics covered include:
Review of Assessment Procedures
Music/Drama Practical Session
Primary School Curriculum
Learning Styles
Literacy Skills
Secondary School Curriculum
Junior Certificate
Leaving Certificate
Assistive Technologies for those with specific needs
Job Skills
Assessment is by continuous assessment. Full timetable for the course is available here:
Special Needs Assisting Spring 2019 SNA L6
€275 (based on minimum of 15 students, €355 if there are only 10 students.)
12 classes
Tuesday Evenings 5th 12th 19th and 26th February and 5th March (7-9:30pm)
Saturday Mornings 9th 16th 23rd February and 2nd 9th March (10am – 12:30pm)
Please note these dates are subject to change due to tutor availability (there is a possibility of Tuesday nights only).