TAI CHI
Portmarnock Community School Adult Education Programme:
Tai-Chi can be practiced at any age and practiced to a level of intensity that best suits your goals, whether they be learning how to relax and manage stress, using Tai-Chi as an aid to recovering from an injury or illness, or developing improved flexibility and fitnes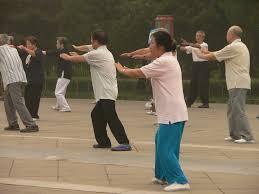 s. The 10 week course will include an introduction to Qi Gong for health and vitality and will focus on Chen Tai Chi and its "silk reeling" exercises. These exercises are the core or the building blocks of Chen Tai Chi. Whole body movement, controlled breathing and focusing the mind are the 3 main ingredients while the benefits of Chen Tai Chi are innumerable. Join in and you will never look back !
Start date to be confirmed        10 weeks
Beginners 7 – 8pm                         €80
Improvers 8 – 9:30pm                   €90
There may be a second Beginners class added 6 – 7pm if large numbers require it.
Gus Tolster has been a student of Tai Chi under the direct guidance of Grandmaster Wang Hai Jun for the past 11 years. He has earned certification in the "18 step" ,"Lao Jia Yi Liu" and "Jian"(sword) forms. Gus has been gathering a good following over the last few terms, with some dedicated return students. Along with his schools in Dublin and Cork, Gus has run successful workshops this summer for the Connemara Maths Academy at Kylemore Abbey, at Glenstal Abbey and for Comhairle na Nog at NUI Galway as well as Tesco Ireland, and Keeling's to name only a few.