DIGITAL MARKETING AND SEARCH ENGINE OPTIMISATION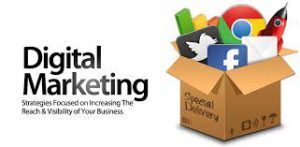 Portmarnock Community School Presents:
This course will give you a good understanding of how to get your website to the top
pages on Google and also how to use other marketing tools such as running your own Google Adwords  campaigns, email and social media marketing too.
The Course:
1. Introduction to Search Engine Optimisation
2. Social Media Marketing & Advertising (Facebook & Twitter)
3. Introduction to Google Adwords
4. Introduction to Email Marketing (Mailchimp)
5. Content Creation (Google Friendly)
After this course you will have a good understanding on how to get traffic to your
website, not just any traffic but the right traffic people who are actually searching for
your products and services.
Starts Saturday 20th Jan. 2018    9 weeks     €100     10am – 12pm
Tutor: Mr. Jonathan O'Malley
Jonathan has over 7 years' experience working in digital media as a designer and
digital marketer, he has a Bachelor's of Science Degree in Digital Media and Graphic Design.