French (Beginner's Continued)
Portmarnock Community School Adult Education Programme:
This French class will be an opportunity for students to start their study of the French language (comprehension, speaking, reading and writing) as well as their knowledge of French culture.

This course will allow you to study with a wide range of resources (oral and written) including everyday French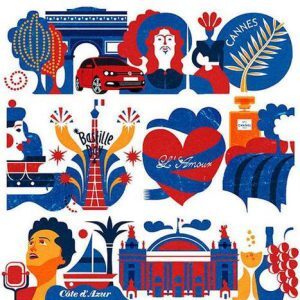 documents (such as restaurant menus, songs, movie extracts, short texts, etc.).
You will take part in activities, conversations, and will also have the opportunity to do projects based on themes that interest you.
The topics of the activities are aimed at developing your communicative skills.
The communicative objectives of the lessons will include: to salute and greet someone, talk about yourself and relatives, order a meal, ask for items and prices, ask for directions, discuss your hobbies and tastes in life.
Upon completing the course, you will be able to:
– understand basic questions in French
– have short conversations with a French speaker, using appropriate greetings
– write short texts (such as presentations or emails)
– utilise an improved knowledge of French culture (ways of life in France, food, cinema, etc.)
The course is suitable for beginners or those who have completed some classes in the past and have some basic French.
The tutor will always be attentive to your needs and expectations.
Main teaching book : The French experience 1, BBC method, Marie-Thérèse Bougard, Danièle Bourdais
Starts: Start date to be confirmed                 10 WEEKS                      €105                    7 – 9pm
About the tutor:
Rachel Guillard is a native French speaker and holds a masters in teaching French as a Foreign Language. She enjoys using the communicative approach: she teaches in order to fulfil learners' needs and believes that anyone can learn by communicating in a good atmosphere while having fun.