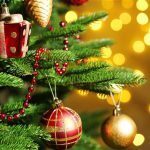 We want to wish you and your families a very Merry Christmas and a Happy New Year. 
I have always been proud to be a student in Portmarnock Community School, but this year, I have been especially proud. 
2020 has probably been the most challenging year that many of us have ever experienced. 
The work that has been done in keeping the doors of our school open since September is absolutely phenomenal.
It is wonderful to witness all of the time,effort and teamwork that has been carried out to make this happen. 
The commitment of each member of our school community has really shone through.
We would like to take this opportunity to especially thank our caretakers Mick, Pat and the cleaning staff who have worked tirelessly to ensure that we can attend school everyday in a safe environment. 
We also want to thank the office staff who keep our school running smoothly, although a lot of their work is behind the scenes, it certainly doesn't go unnoticed.
To everyone who has played a part in fundraising this year we would like to congratulate you. All in all the school has raised over 2 thousand euro this year, and the funds generated are greatly appreciated by many charities. 
We would like to thank the PE department and Ms McDonald, the student council, prefects and those selling Christmas trees in aid of Action Ireland Trust for all of their great efforts in organising fundraising events this year.
We would also like to congratulate and thank the music department for the wonderful carol service that took place last Friday. As different as it was to previous years it will certainly be one that won't be forgotten. We can't thank you enough for lifting everyone's spirit with the wonderful music that was played.
We would like to say a special thanks to the PE department for keeping spirits high by organizing fun and engaging PE classes for all of us to enjoy.
We would also like to express our appreciation for the dedication of our guidance counsellors. Their work has always been so important but now more than ever we are truly seeing the great impact of the work they do.
As I'm sure we all agree Ms Clarke's weekly reflection brings joy to our week especially during these times, they certainly lift everyone's spirits 
SNAs and our resource team, the sheer number of students you support on a daily basis is incredible, on behalf of everyone we would like to thank you, the work you do is unparalleled. 
To our teachers, tutors, year heads, snas and resource teams who have worked so hard since the 12th of March to make sure this 'new normal' doesn't take a toll on our studies. You have done tremendous work in supporting students as we all navigate through this time, on behalf of all students we would like to say a heartwarming thank you.
To Ms Deeney, Mr Clarke, Ms Molamphy and Ms Dargan, we can never thank you enough for your commitment and dedication to the students and staff in PCS. The work you do is absolutely exceptional.
To the students of PCS we want to acknowledge all of YOUR hard work, it has certainly been a challenge for each of us, but a challenge that we are collectively overcoming
We would like to commend the third and sixth year students in particular, this year has not been what we expected our exam year to look like. All we can do is continue with our hard work which will no doubt pay off in June
Mar a deireann an seanfhocail ni neart go cur le cheile, tiocfaimid go leir slan as seo.
Ba mhaith linn Nollaig Shona a guí Oraibh go leir agus athbhliain faoi mhaise.
FELIZ NAVIDAD, joyeux Noël, Fröhliche Weihnachten,.