poop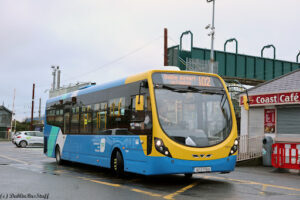 In the morning there will be a bus from Swords arriving at the school at 8.35am, closer to starting time. The journey arriving at 8.11am will still run.
In the afternoon there will be an additional departure from the school at 4.05pm. The 4.10pm departure will continue to run.
These extra journeys will commence from Monday 30th August.
Getting the service started as soon as possible means it is necessary to use a single-deck bus for one of the two journeys in each direction.
Students travelling from the south: The new H2 route provides connections from that direction, with a scheduled arrival at the Hillcourt stop at 8.18am. In the afternoon there is a departure towards Baldoyle (and carrying on to the city centre) at 4.09pm. Most of the H2 stops are the same as route 102 except that the H2 serves Baldoyle Road rather than Sutton Station.
Given that there will be no information on stops or signs about the extra journey initially, we are also sending the timetable to you from the Authority's customer service address in case you wish to forward.
Click here (PDF) for the new routes.