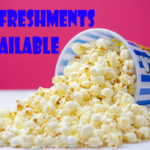 Tickets are going fast for our Musical 'Thank You For the Music'  March 20th-24th. There are some tickets still available at break and lunchtime.  The Parents Association will sell refreshments before the show and during the interval. We would appreciate if you could bring cash and small change to facilitate quick payment.
To raise funds we are collecting low value coins: 1, 2 and 5 cents. You can drop your small change at the refreshment stand during the Musical.
Thank you for your support.