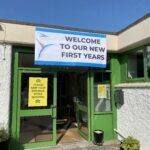 We are looking forward to welcoming our students back through our doors.
All students need to pay for a journal (€15) and a locker if required (€20) through the VSWare App.
The return schedule for August is here in PDF form: Opening of the School Academic Year 2023.
The Academic Year Calendar for 2023/24 is here (PDF).
Details on the school uniform and PE Uniform:
Junior Students are here (PDF).
Senior Students are here (PDF).