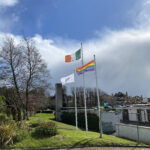 Well done to Erin Cassidy who has been awarded second place in the SAI Young Sociologist of the Year 2023!
Thanks to Ms O'Brien who mentored Erin through her Politics and Society class.
The Sociological Society of Ireland wrote that: 'All submissions were reviewed by a team of Sociologists from University College Cork and the Sociological Association of Ireland. We were very impressed by Erin's insights on Gender Inequality and her ability to integrate theory with practical examples within a very well written and researched essay about how the society we live in is structured and organised.'
Congratulations Erin and good luck in your future studies.