Student Achievement Awards
Student of the Year Awards 2020/21
SCHOOL SPIRIT AWARDS 2019/20:
SCIENCE AND INNOVATION: ADAM DOYLE AND AARON CULLEN
COMMUNITY AWARD: DIANA FILIP
SOCIAL JUSTICE AWARD: KATE MARTIN MCDONALD
ENVIRONMENTAL AWARD: AVA BYRNE
CREATIVE ARTS AWARD: JUNIOR ABIGAIL LLYOD KEANE SENIOR JED HAZAYMEH
MUSIC: JUNIOR ELOISE CAMPBELL IRWIN SENIOR LOLA GILLESPIE
GOLD MEDAL WINNER: THE STUDENT WHO ATTAINED THE HIGHEST NUMBER OF POINTS IN HER YEAR GROUP IS SARAH ECCLES
GER KENNY CUP AND GOLD MEDAL FOR EXCELLENCE IN MATHS TO STEVEN JAMES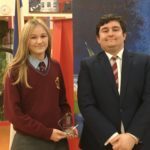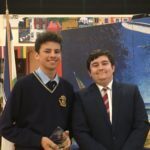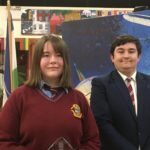 Student of the Year Awards 2019
First Year – Ross O'Boyle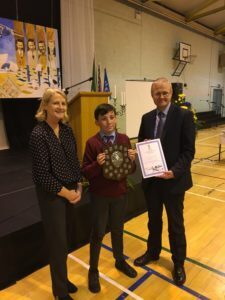 Second Year – Shauna Lee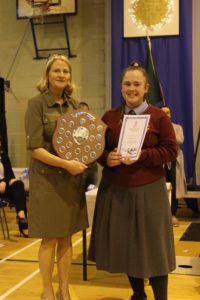 Third Year – Ryan Whelan and Alexandra McGah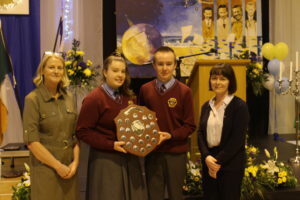 an
Fourth Year – Aoibhínn Clancy
Fifth Year – Diane Filip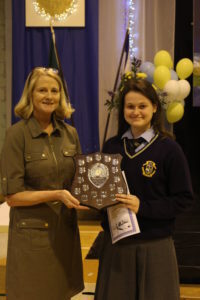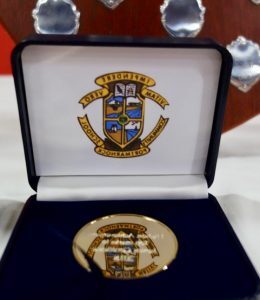 Academic Achievement Awards 2018
Gold Medal, for the student achieving the top marks- Emma Doyle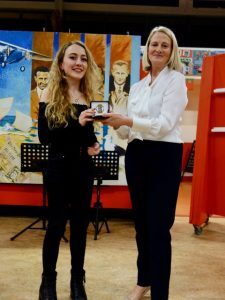 Excellence in Maths award – Ahmed Jouda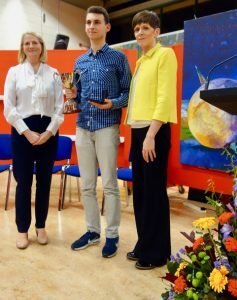 Principal's Award – Ravi Gollapalli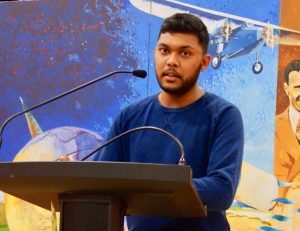 Class of 2018 – Top 20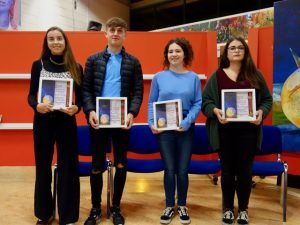 Emma DOYLE Biological and Biomedical science – TCD
Ahmed JOUDA Data science – UCD
Oliver JUCHNEVICIUS Engineering – TCD
Anna MULLIGAN awaiting information
Aisling Crean LYNCH Actuarial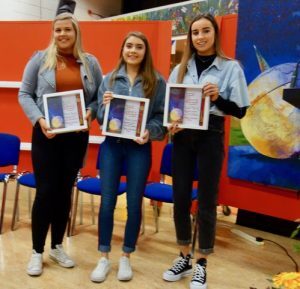 Maths – DCU
Lleno ANYA Computer Science – UCD
Killian FORAN Medicine – NUIG (Galway)
Cormac McCUDDEN Commerce International with Spanish – UCD
Adam HICKEY BESS – TCD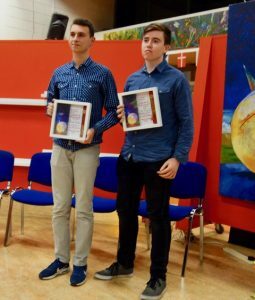 Berinyuy NJOLAI Studying German in Stuttgart before commencing Medical school.
Seán MCDONNELL Computer Science – UCD
Sam MCKEOGH Law and French in UCD
Aoife DALTON Currently studying French in Corsica.
Shona NOLAN Biological and Biomedical Science in TCD
Aoife WHYTE Biological and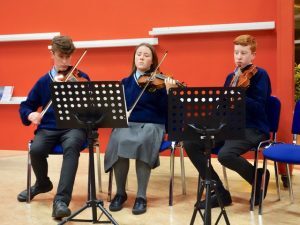 Biomedical science in TCD
Vivien KEEVEY Integrated nursing DCU
Nisha CROSBIE Psychology – DCU
Callum LAWSON GALLAGHER awaiting information
Darren DALY Business studies in DCU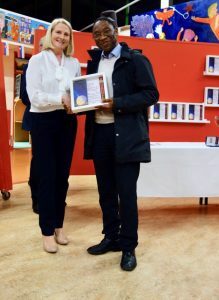 Sophie BURKE International
TOP STUDENTS IN JUNIOR YEAR GROUP:
1 Iria Villar – Gold Medal – highest marks award
2 Conor Burke – Gold medal – joint highest marks award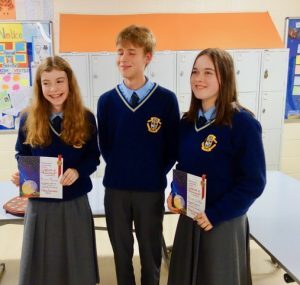 3 Ciaran Hegarty
4 Conor Gleeson
5 Ella Fitzsimons
6 Emily O'Shea
7 Daniel Maddock
8 Matthew Egan
9 Meaghan Butler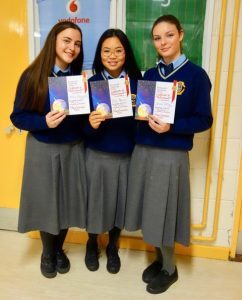 10 Shawn Legaspi
11 Conor Clarke
12 Conor Egan
13 Aine O'Connor
14 Annette Saidléar
15 Rebecca Wall
16 Darragh Curtin
17 Aileen Fitzgerald
18 Dearbhla Loughran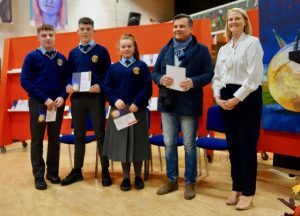 19 Jack Cottell
20 Alex Andreucetti
21 Fiach Dubh O'Ceallaigh
22 Cian Foran
23 Ava Byrne
24 Aoibhinn Clancy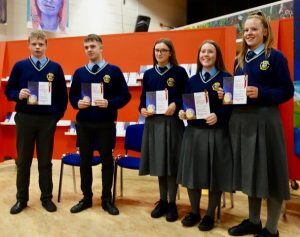 25 Alanna McSweeney
26 Emma Rouine
27 Kaylem Donohue
28 Luke Lloyd
29 Claire Roddy
TOP 5 STUDENTS IN EACH OF THE 3RD YEAR TUTOR GROUPS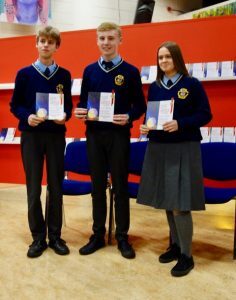 3H
Ella Fitzsimons
Matthew Egan
Emily O'Shea
Fiach Dubh O'Ceallaigh
Aine O'Connor
Alex Andreucetti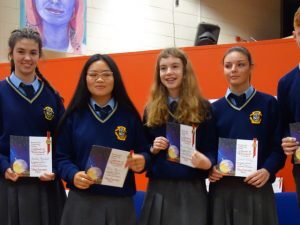 3B
Eoghan Reilly
Damayanti Kalina
Tom Cregg
Isabelle Danes
Alex Sullivan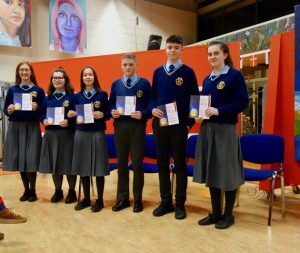 3N
Emma Rouine
Erin Moore
Heather Marshall
Sinead Falvey
Evan O'Dea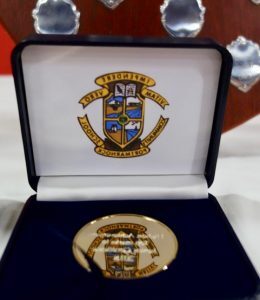 3C
Sean Church
Hollie Tobin
Ava Scannell
Ciara Mullin
Adam Dwyer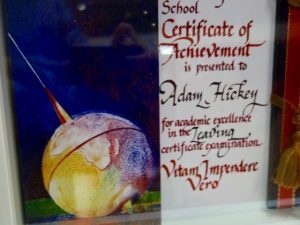 3D
Conor Burke
Ciaran Hegarty
Iria Villar
Rebecca Wall
Meaghan Butler
Ava Byrne
Student of the Year Awards 2018
First Year – Lucy Lenihan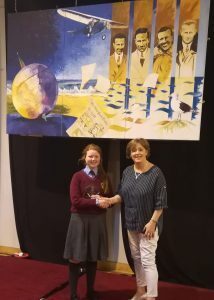 Second Year – Ethan Costello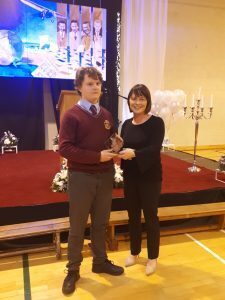 Third year – Emma Rouine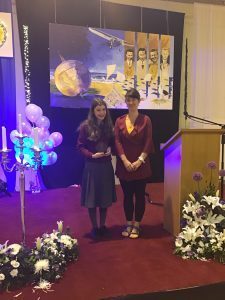 Transition Year – David Li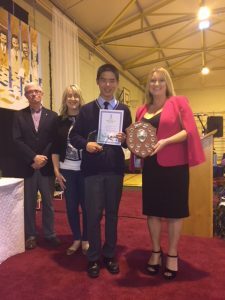 Fifth year – Hannah O'Flaherty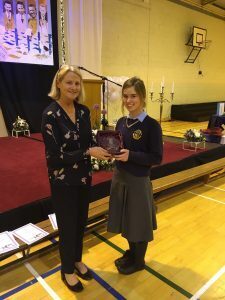 Student Awards 2017
Colin McAndrew – Principals Award
Patrick Eccles – Excellence in Maths
Leaving Certificate Awards
Rose Walton Science TCD
Ross Oglesby Science TCD
Roisin Dowd Science UCD
Peter O'Brien Engineering DIT
Daniel Kelly TCD
Ross McCabe TCD
Emma Woodhead Drama/Spanish TCD
Meadbh Donnelly DCU
Aliza Alias Medicine Bulgaria
Lauren Coyle Maguire
Orla Burke Pharmacy RCSI
Lauric Saidlear DCU
Rachel Donnelly/Lawlor Nursing DCU
Oisin Reilly Physical Ed. DCU
Morgan Keane Business Studies DCU
Louise Fagan Engineering TCD
Kate Fagan Engineering TCD
Daniel Flood Engineering TCD
Stephen Byrne Engineering TCD
Gold Medal Award winners:
Patrick Eccles Physiotherapy TCD
Christine Blott Medicine TCD
JUNIOR AWARDS 2017
4G
CONOR MCKEEVER
LAURA PHELAN
DIANDRA REDDIN
SARA CARROLL
JED HAZAYMEH
4K
CAOIBHE BOLGER
MARK O'CALLAGHAN
NIAMH DUGGAN
SEAN HUNT
FINN BUCKLEY
4S
BEN CLARKIN
CAOIMHE O'REILLY
JACK QUINN
ELLA GREENE
SARA DE CAROLIS
4F
AARON CULLEN
EOGHAN HEALY
SARAH LOUGHRAN
SIMON GREENAN
WEI LI
4N
DIANA FILIP
AOIBHEANN CREAN-LYNCH
CILLIAN O'SULLIVAN
DAVID LI
DANIELLE STANLEY
May 2017 Students of the Year
First Year Benjamin McCarthy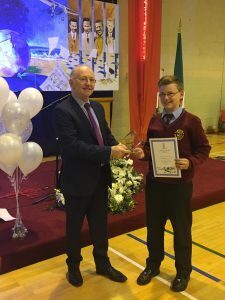 Second Year Conor Egan and Matthew Egan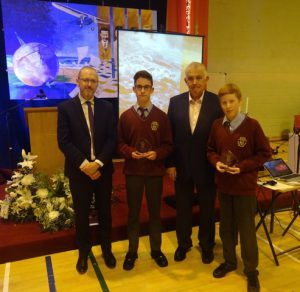 Third Year Aaron Cullen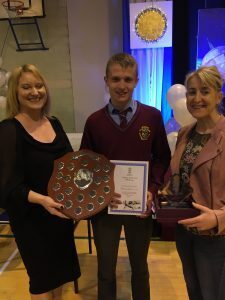 Transition Year Rebecca Fitzmaurice and Lauren Fitzmaurice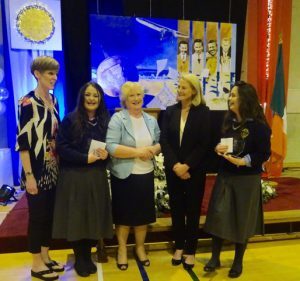 Fifth Year Karl Stanley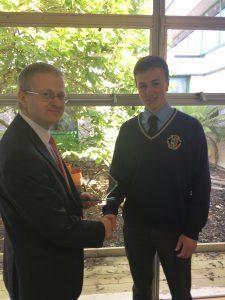 October 2016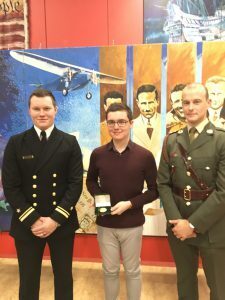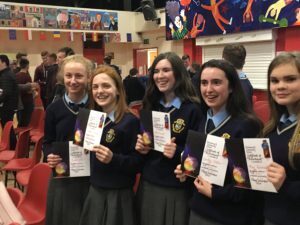 On Thursday 20 October our Annual Academic Awards took place despite a power cut. The candles were not the only bright lights that graced a wonderful evening of celebrating excellence in our school community. Mr Higgins surpassed himself yet again by crafting individual certificates against a backdrop featuring themes of journey and endeavour.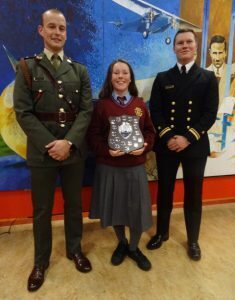 Mr Fitzgerald introduced our guest speakers; Lieutenant David Melvin of the Irish Navy and Troop Commander Colm Fahy of the Irish Defence Forces, both 2003 graduates of PCS. David spoke of the importance of leadership and how he received a grounding in leadership skills in PCS through his teachers mentoring and his extracurricular activities. Colm spoke powerfully about how the resilience he developed through sport and the influence of specific teachers has served him well in his leadership role. Our Student Leader Prefects were of great assistance throughout the evening.
Mr Maynes then announced our Leaving Certificate Awards which were presented by David and Colm. Sam Cox received the Gold Medal Award for the best LC results of 2016. Cian O'Brady received the Ger Kenny Cup for Excellence in Mathematics. Christopher McMahon accepted The Principal's Award for his contribution to School Spirit.
Leaving Certificate Academic Awards 2016.
Sam Cox TCD Human Health
Conor Holland TCD MSIS
Gearoid Walsh TCD Engineering
Cian O'Brady TCD Computer Science
Christopher McMahon TCD BESS
Orla Healy TCD French and Sociology
Danny Corcoran TCD BESS
Eoin Holton TCD Nursing
Ciara Whelan UCD Actuarial Studies
Gearoid Cronin DIT Product Design
Cian O'Daly DCU Business Studies
Sara Boyle DCU Business Studies
Eoin Kelly DCU Business Studies
Cillian Brady DCU Enterprise Computing
Lauren Grouse DCU Global Business and French
Gold Medal Award – Sam Cox
Ger Kenny Cup for Mathematics – Cian O'Brady
Principal's Award – Christopher McMahon
Ms Gaffney then announced that Jessica McMahon was the recipient of the Junior Certificate Gold Medal Award.
Junior Certificate 2016 Academic Awards:
Amber Daly
Chloe Bisset
Casey McGee
Julia Sereda
Grace McKeever
Sarah Eccles
Rachel O'Hanlon
Jessica Mahon
Oliver Juchnevicius
Oran Brennan
Sean Cooney
Alannah Gargan
Christopher McFadden
Matthew Walton
Lauren Fitzmaurice
Amy Kavanagh
Samuel Potter
Mark Liston
Carolyn Hulbert
Stephen James
Kimberley Healy
Cillian Sadlier
Sergio Ganaza
Melissa Kelly
Jason Kennedy
Colm O'Connor
Josh Reilly
Florence Okojie reflected on her and her fellow students' Short Course journey through which they learned to confidently promote events and produce wonderful creations.
Mr O'Mahony returned to PCS to fittingly present our first Short Course Certificates. He spoke of how proud he was to see these courses producing such assertive and skilled students. Ms Bradley (Media Literacy) and Ms Tynan (Animation) announced their graduates to mark this historical milestone for PCS.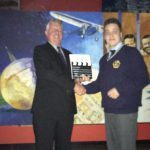 Short Course Graduates:
Oran Brennan
Niamh Carolan
Clara Courage
Mark Devereux
Cormac Donnelly
Dean Fagan
Sergio Ganaza
Adam Greenan
Oliver Junchevicius
Luke Kelch
Melissa Kelly
Jason Kennedy
Tara Lambert
Ryan McWilliams
Adam Mitchell
Evan Murray
Sean O'Carroll
Hannah O'Flaherty
Florence Okojie
Robert Richmond
Cillian Saidlear
Mr Clarke then presented the Student of the Year Awards (see below) and the Second Year Public Speaking Award to Diandra Reddin.
Ms Deeney concluded the candlelit evening as the lights came back on to see our shining stars home.
Students of the Year 2016
1st Year Ava Scannell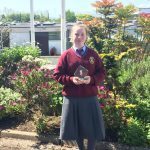 2nd Year Caoibhe Bolger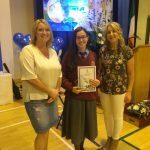 3rd Year Lauren Comiskey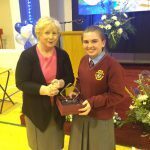 4th Year Rian McCarthy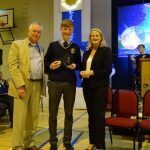 5th Year Katelyn Roche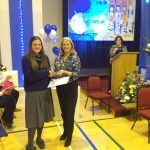 Public Speaking 2016 : Diandra Reddin (2G)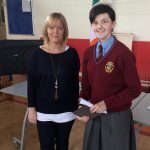 October 2015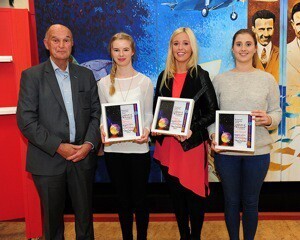 On Wednesday 14 October 2015 we hosted our Annual Academic Awards attended by proud parents/guardians and teachers and beaming students. Mr Higgins excelled once more with his coveted certificates and Southern cross painting.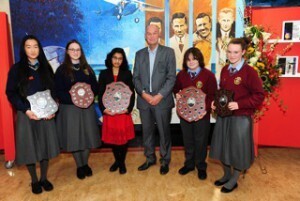 Mr Fitzgerald introduced Mr David Hickey as our guest speaker. He is a former footballer and current selector for Dublin and the current Director of Transplantation. He was awarded two all-stars for Dublin in 1974 and 1976. He won the All Ireland with Dublin on three occasions in 1974, 1976 and again in 1977. David has won two League Medals with Dublin in 1976 and 1978. He is a consultant urologist and transplant surgeon.
Mr Hickey spoke of how we must be true to ourselves and not accept the status quo if we are to make a mark on our world. We must blend compassion with ambition and help the vast majority of the population who are not as privileged as us. His simple and truthful message will echo in the future actions of all who were present.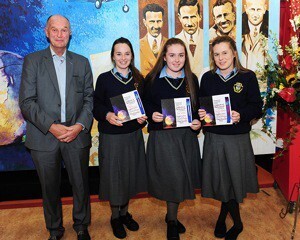 Mr Hickey presented our awards with the assistance of our Prefects. Deputy Head Boy, Conor Holland and Deputy Head Girl, Fiona Tighe introduced our Students of The Year who are awarded for their overall contributions to school spirit. Caoimhe O'Reilly, Cormac Donnelly, Aliza Alias, Maedbh Donnelly and Aisling Moore were the worthy recipients.
Mr Dempsey then presented the Junior Certificate Awards assisted by Prefect Jack Nicholson. Twenty six students received awards for excelling in the State Exam and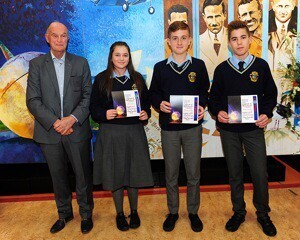 Mr Clarke presented the Leaving Certificate Awards on behalf of Mr Fitzgerald. The overall Gold Medal Winner was Kate Finnucane who is studying Science in TCD.
Our Principal Ms Deeney then presented Daniel Burke with the Ger Kenny Maths Award. Daniel is studying Actuarial Studies in UCD. The Principal's Award for contribution to the school community went to Rhiannon Curtis-Davis who is studying Primary Teaching in DCU.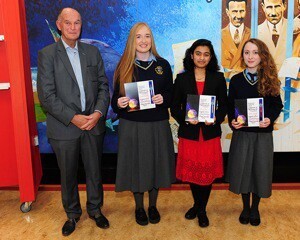 Students of The Year 2015
First Year Caoimhe O'Reilly
Second Year Cormac Donnelly
Third Year Aliza Alias
Transition Year Maedbh Donnelly
Fifth Year Aisling Moore
Leaving Certificate 2015 Prize Winners
Hazel Reilly Biomedical Science Dublin Institute Technology
Ryan Fitzpatrick Biomedical Science Dublin Institute Technology
Leah Newport Accounting/Finance Dublin City University
Rebecca Bruen Account. and Finance Dublin City University
Rhiannon Curtis-Davis Primary Teaching Dublin City University
Ciaran Ingle Computer Science Trinity College Dublin
Nicholas Blott Computer Science Trinity College Dublin
Ultan O'Moráin Computer Science Trinity College Dublin
Shane Nangle BESS Trinity College Dublin
Orla McKiernan BESS Trinity College Dublin
James Walton BESS Trinity College Dublin
Jamie O'Brien Science University College Dublin
Gavin Fitzmaurice Science University College Dublin
Daniel Burke Actuarial Studies University College Dublin
Gavin Eccles Mgt.Sci and Info Studies Trinity College Dublin
Joseph Dunne Science Trinity College Dublin
Ryan Davis Engineering Trinity College Dublin (Absent)
Overall Gold Medal Award:
Kate Finnucane Science Trinity College Dublin
Ger Kenny Maths Award: Daniel Burke
Principal's Award: Rhiannon Curtis Davis
Junior Certificate 2015 Prize Winners
Lauryn Butler
Jade Walsh
Megan O'Connor
Aoife Whyte
Ravikanth Gollapalli
Rian McCarthy
Emma Doyle
Dara O'Boyle
Sarah Bradley
Aliza Alias
Emma Ford
Sophie Burke
Sean McDonnell
Thomas Buckley
Darren Daly
Leah Holland
Vivien Keevey
Shona Nolan
Sam McKeogh
Nisha Crosbie
Aisling Crean-Lynch
Adam Hickey
Orla Curtis-Davis
Darragh Brennan
Anna Mulligan
Killian Foran
Gold Medal Award: Emma Doyle and Sarah Bradley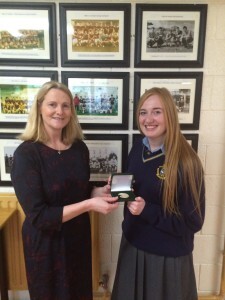 ____________________________________________________________
Congratulations to Lauren Fitzmaurice who received her Public Speaking Award from Ms Gaffney.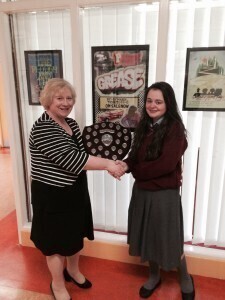 April 2014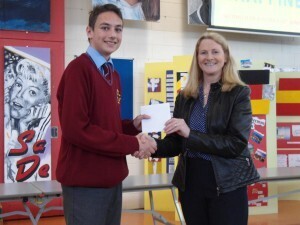 Congratulations to Adam Al Ja'Afreh who was presented with his award for Public Speaking by Ms Deeney.
October 2014
A wonderful celebration of academic excellence in the state exams took place last night. Mr Higgins whose glorious artwork formed an historical backdrop to a great night transformed the Assembly Hall into an impressive arena of awards.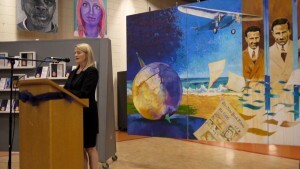 Parents witnessed students being presented with the fabulous awards which were also designed and created by Mr. Higgins. Our returning Leaving Certificate and last years Junior Cert students who excelled in their exams through dedication and long hours of study will treasure them for a very long time.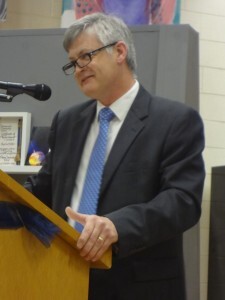 Our Principal, Ms Deeney, welcomed our special guest speaker Mr Shaun Quinn, Chief Executive of Failte Ireland. Mr Quinn exhorted the students to retain their work ethic, as it is this that will set them apart from others with similar skills. He emphasised a focus on goals as important also saw interpersonal skills and emotional intelligence as attributes that will enhance opportunities.Mr Quinn then presented our most successful Junior Certificate students with their certificates. Ms Norris read out the list of names concluding with Rachel Donnelly-­Lawlor who won the Overall Junior Certificate Gold Medal Award.
Mr Clarke then called the Leaving Certificate students forward, concluding with our Overall Leaving certificate Gold Medal Award winner, Mark Nolan. Mark is studying Medicine in TCD and continues to be a remarkable individual who is not only highly focused on his studies but also on his community. We were delighted that Ms Geraldine Kenny returned to PCS to present our Annual Mathematics Award to Kate Hawkshaw.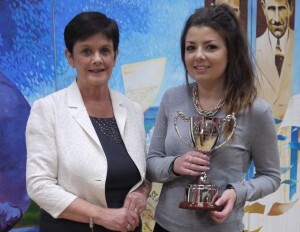 Our Head Boy and Head Girl, Ultain O'Morain and Ailbhe Twomey presented our Students of the Year with their trophies and medals.
Students from each year are marked out as contributing in a significant way to school spirit.
The winners were: Holly Ramsey (1st Year); Ashlee Rocliffe (2nd Year); Oisin Reilly (3rd Year); Faolan Radcliffe­McGovern (4th Year) and Kate Finnucane (5th Year). The Principal's Award is given to a student that has excelled academically but also contributed widely to our school community. Mark Nolan was a most deserving recipient.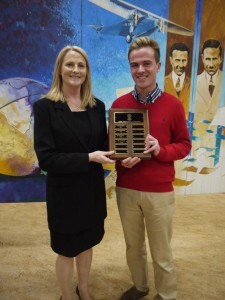 Leaving Certificate Prize Winners 2014:
Mark Nolan TCD (Medicine)
Íomar Mc Manus TCD (Mgt. Science)
Kate Hawkshaw TCD (Mgt. Science)
Caoimhe McDonnell UCD (Science)
Ina Caul TCD (Engineering)
Ross King TCD (Pharmacy)
Rachel Martin TCD (Science)
Megan Connolly DCU (PE and Biology)
Coman Brady TCD (BESS)
Deirdre Corish UCD (English and Drama)
Cassie Hackett DCU (Aviation Mgt.)
Tom Freaney UCD (Science)
Ian Smith DCU (Engineering)
Ciara Clarke TCD (Mgt. Science)
Govan Joliffe-Byrne NUIM (Computer Science)
Áine Fagan TCD (German and Irish)
Emer McGettrick DCU (Business and Accountancy)
Aoife O'Connor St. Patrick's (Primary Teaching)
Laura O'Connor DCU (Irish and French)
Kelly O'Brien TCD (English Literature)
Emma Whelan
Simon Lenihan TCD (BESS)
Laura McAteer UCD (Equine Science)
David Smith TCD (Engineering)
Niamh Stanley DIT (Biomedical Science)
Aimee O'Donovan DCU (Aviation Mgt.)
Karla Potter
Junior Certificate Academic Award Winners 2014:
Rachel Donnelly-Lawlor
Roisin Dowd
Orla Burke
Kate Fagan
Louise Fagan
Oisín Reilly
Christine Blott
Ross Oglesby
Patrick Eccles
Ciara Cassidy
Lauric Saidler
Emma Woodhead
Rose Walton
Ross McCabe
Maedbh Donnelly
Eoghan Dowling
Eoin Ingle
Peter O'Brien
Peter Caddle
Anbu Sundaravadivelu
Martyna Kubisztal
Lauren Coyle Maguire
Morgan Keane
October 2013
Our annual Academic Achievement Awards mark one of the most important evenings in our school-year, when we celebrate the success of our students following their Junior and Leaving Certificate results.
It is an opportunity also to acknowledge their parents / guardians and teachers for their role in supporting these young people.
Siobhán Moore of the Dublin Airport Authority
gave the keynote address. She spoke of motivation at all stages in ones life and commended the students to do the best in all that they undertake. She concluded her presentation with the following poem The Comfort Zone
If you are in a comfort zone
afraid to venture out,
Remember that all winners
were at one time filled with doubt
A step or two and words of praise

can make your dreams come true
Greet your future with a smile,
success is there for you!
The Leaving Certificate Gold Medal Award for best results in PCS was awarded to Holly Herbert (Trinity College Dublin, Science). The Geraldine Kenny
Award for Mathematics was awarded to Stephen O'Shea (Trinity College Dublin, Theoretical Physics). The Principal's Award for the Class of 2013 was awarded to Evan Davis (University College Dublin, Commerce). This was presented by Mr. Pat O' Riordan. The Junior Certificate Gold Medal Award was presented to Sam Cox.
The Second Year Public Speaking Award was presented to Matthew Petherbridge by Mrs. Ciara Freaney of the Parents'
Association.
Caitlin Cassidy, Aoife Mooney, Fiona Tighe, Chloe Carolan and Christopher Derby were all presented (by Cassie Hackett and Mark Nolan, Head Girl and Boy) with their respective trophies as 2012 / 2013 Students of the Year.
There is a full photographic record in the photo-stream on the right.
The Leaving Certificate prize-winners were:
Kate Whyte (Trinity College Dublin)
Angel Lo (Trinity College Dublin)
Ruth Devlin (Medicine)
Christina Fitzsimons (Trinity College Dublin)
Alannah Farrelly (Trinity College Dublin)
Gabriel Dennehy (Trinity College Dublin)
Robyn Keane (Dublin City University)
Sean Colgan (Dublin City University)

Jennifer Byrne (Trinity College Dublin)
Sinead Deegan (Trinity College Dublin)
Shyam Gollapalli (Trinity College Dublin)
Conor McLoughlin (Trinity College Dublin)
Stephen O' Shea (Trinity College Dublin)
Holly Herbert (Trinity College Dublin)
The Junior Certificate prize-winners were:
Matthew Collier
Lucy Archbold
Karl Daly
Jorgia McComiskie
Niamh Healy
Gearoid Cronin
Conor Sparksman
Sam Cox

Sara Boyle
Conor Holland
Cian O'Sullivan
Gearoid Walsh
Cian O'Daly
Cian O'Brady,
Cara McDowell,
Danny Corcoran
Faolan Radford- McGovern
Matthew Jenkinson
Eoin Dunne
Niamh O'Reilly
Orla Healy
Christopher McMahon
Ciara Whelan
Fiachra Verjans-MacDermott
Caitlin Kernan
Eoin Kelly
Lauren Grouse
__________________________________________________________
The Academic Achievement Awards for 2012 were presented to students on Thursday 11th October.
These students represent the individual 2011/2012 Students of the Year from First through Fifth Year and the students from Third and Sixth-year who achieved outstanding success in their State-examinations.
Portmarnock Community School has many awards ceremonies and this is the one which represents what is best about teaching and learning within the school.
We are delighted with our student's success, in particular the Sixth-years
who have achieved challenging courses in Ireland's and indeed the United Kingdom's best Universities and Colleges of Higher Education.
They are wonderful role-models for the younger students at the awards ceremony and indeed to
all the school community.
Leaving Certificate Gold Medal Award Conor Keogh
Junior Certificate Gold Medal Award Daniel Burke
Principal's Award for Class of 2012 Orlagh Geoghegan
Geraldine Kenny Award for Mathematics Aisling Drumgoole
The 2011 / 2012 Students of the Year are
1st Year Orla Burke
2nd Year Alicja Roslaniec
3rd Year Ailbhe Twomey
4th Year Cassie Hackett
5th Year Sam Earlwood
The twelve Leaving Certificate honoured are
Conor Keogh Medicine Trinity College Dublin
Sarah Hawkshaw Pharmacy Trinity College Dublin
Sean Healy Computer Science (with French and Linguistics) Trinity College Dublin
Nathan Supple Mechanical Engineering Dublin Institute of Technology
Denis Ryan History and English NUI Maynooth
Ciarán Mulryan Philosophy Trinity College Dublin
Niall Conlon Biotechnology Dublin City University
Stephen Ducray Science Trinity College Dublin
Daniel Oso Business University of London
Cathy Lane Animal Science (Equine) University College Dublin
Aisling Drumgoole Engineeering University College Dublin
Willian Hickey Architecture University College Dublin
A list of the students who received their award is here.
Click on any photo below to start a slideshow.
[AFG_gallery id='36']
____________________________________________________________________________________________________________________
2010 / 2011
[AFG_gallery id='10']
The inaugural Academic Student Achievement Awards took place in Portmarnock Community School on Tuesday 11th October 2011.
These awards acknowledge the academic achievement of the Leaving Certificate and Junior Certificate classes of 2011 and were made to the students who achieved high grades in the recent Certificate examinations.
We are proud of all of our students and salute the success of the 2010/2011 Sixth-year class. We wish them all every success in the future.
The school celebrates the success of students right through their school life with a Subject Award ceremony every May. Transition Year students also have their own ceremonial evening.
Last nights Academic Student Achievement Awards ceremony is part of that process, allowing us to honour Sixth-year students in particular, who achieved excellent results in their Leaving Certificate.
We acknowledged several students by name
James Fagan The best overall Leaving Certificate result
Iomar McManus The best overall Junior Certificate result
Colm Robinson The Principals Award for his outstanding contribution to PCS over the past six years
James Fagan The Mathematics Award for outstanding study and achievement in the Leaving Certificate of 2011
Lucy Archbold First Year Student of the Year 2010/2011
Rhiannon Curtis Davis Second Year Student of the Year 2010/2011
Mark Nolan Third Year Student of the Year 2010/2011
Evan Davis Fourth Year Student of the Year 2010/2011
Sarah Hawkshaw Fifth Year Student of the Year 2010/2011
We want to acknowledge the work of the teachers over the past six years and thank them for both their outstanding dedication to their subject areas and to the students in the school.
Last nights ceremony could not have happened without the work of a committee of teachers who planned the awards, designed the certificates and essentially made the evening the success it was. They were supported by the Sixth-year prefects. The Transition Year Music Class provided musical accompaniment.