Junior Cycle Information for Parents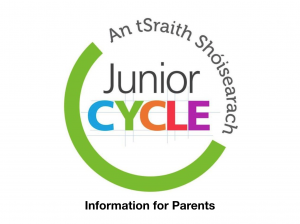 Powerpoint videos from Ms Maher explaing Junior Cycle for Parentsd 2020/21:
First Year Parents:

Second Year Parents:

Third Year Parents:
Key Dates for Classroom Based Assessments and Revised Arrangements for current Third Years can be found here. . Second Year Key Dates for Classroom Based Assessments will be released by the NCCA later this year
Glossary of Assessment Terms and Acronyms here.
Background Information as a slideshow for parents on the new Junior Cycle beginning with its introduction to schools.
For a brief synopsis of the new Junior Cycle.
Information for parents on Assessment, Reporting and the JCPA (Junior Cycle Profile of Achievement) Certificate.
Example of a JCPA Certificate and the journey towards achieving it.
Video for parents of those following the L2LP in the new Junior Cycle. This programme will only be followed by a student after discussions between the SEN department and parents.
Any Junior Cycle queries can be directed towards our Junior Cycle Coordinator, Ms. Maher, at mmaher@portmarnockcommunityschool.ie. Queries will be answered during school hours as soon as possible.