Contact us on 01 8038069 or adulted@portmarnockcommunityschool.ie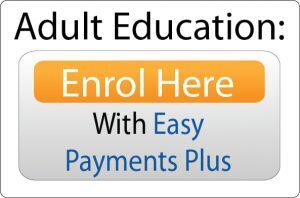 Details of courses for the Spring term 2019 are listed below. Enrolments are now open! If you experience any issues enrolling online please call 018038069 or email adulted@portmarnockcommunityschool.ie.
Our Spring 2019 print Brochure is available here.
Monday Evenings
Tuesday Evenings
Bodhran
Drug Education Programme: 'Family Focus' for Parents /Guardians /Carers and Community Workers run by Community Awareness of Drugs (CAD)
Italian Beginners
Italian (Improver's: Intermediate Level B1)
Music Theory
Pilates Beginners 7-8pm   Improvers   8-9pm               4 additional weeks start 20th Nov. Enrol now!
Running "0 to 5K"
Special Needs Assisting QQI L6
Thursday
Saturday Mornings
Special One day Saturday Workshops,
Nutrition, Food and Feeling Good: Three separate workshops
The Big Sleep Workshop:                   2nd Feb.
The Healthy Vegan Workshop            9th Feb.
The Good Gut Workshop                    16th Feb.
Director of Adult Education: Mr. Michael McNeive