Contact us on 01 8038069 or adulted@portmarnockcommunityschool.ie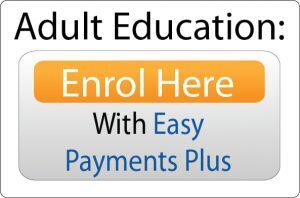 Available now: Our schedule for Spring / Summer term. We will run two terms for most courses, firstly Term 1 from week of 22nd January up to Easter, then from Easter up until the end of May.
The new brochure for Spring / Summer 2018 is available here and online enrolments are available for most courses now.
Monday Evenings
Tuesday Evenings
Archery   running
Art / Painting     running
Badminton       running
Baking:             running and full
Beekeeping       running and full
Choir          not running this term
Computers: Digital Skills for Citizens,     2 Free Courses         running 3 places left
Craft Beer Brewing                                                               more students needed
Creative Writing (Beginner's)                                                not running
Development Education and Humanitarian Mapping Projects
Early Childhood Psychology                                                 starts 6th Feb.
Fashion Design (Beginners)                                                  not running
First Aid                                                                                 running
Forensic Science                                                                   not running
Gardening for Beginner's                                                       not running
Golf                                                                                         not running
Italian (Improver's Continued: Intermediate Level B1)            running
Italian (Beginners)                                                                   running
Mindfulness                                                                             not running
Photography DSLR Camera                                                  running
Pilates Beginners 7-8pm   Improvers   8-9pm                       running
Reality Check Course                                                            not running
Self Defense for Women                                                        not running
Spanish (Beginners)                                                              running
Spanish (Improvers,                                                              running
Ukelele                                                                                   more students needed
Website Design Using WordPress                                         not running
 Yoga                                                                                     running
Zumba                                                                                   running
Wednesday
Thursday
Bass Guitar                                                                            not running
Pilates Pre and Post natal                                                     not running
Volleyball                                                                                running
Saturday Mornings
Director of Adult Education: Mr. Michael McNeive