We will attempt to catch up on classes not completed during the Spring 2020 term in September. This will be dependant on Department of Education guidelines and directives to deal with the current Covid-19 virus. Please check back for updates. We hope to be in a position to offer classes for the Autumn 2020 term, although there will be limits on class sizes etc.
Contact us on 01 8038069 or adulted@portmarnockcommunityschool.ie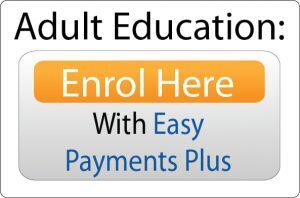 Our previous print Brochure from Spring 2020 is available at this link.
Schedule for Spring 2020 is below. This will give an idea of courses that will be offered in the future but these have yet to be confirmed for Autumn 2020.
Monday Evenings
Tuesday Evenings
Thursday
Saturday Mornings
Saturday One Day Workshops
Nutrition and Well Being Courses:   10am – 1pm
Director of Adult Education: Mr. Michael McNeive