HEALTHY COOKING FROM AROUND THE WORLD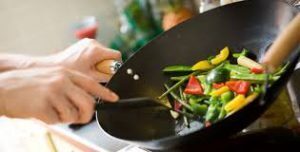 Portmarnock Community School Adult Education Programme:
This hands on course will take you on a journey around the world, from the heart of Spain through Italy, across to the Moroccan countryside and further afield. Delicious, vibrant and healthy cooking shown step by step. Easy to follow recipes, that can be shared with family and friends. Share in this culinary tour. Presented by a top 10 MasterChef finalist.
Healthy meal planning
Starters, Mains & Desserts
Time saving methods
Money saving recipes
Easy to follow, step by step instructions
Adaptable Recipes
Create tasty meals for family and friends
Relaxed atmosphere
Make your own pasta
Culinary performance enhanced
Easy and delicious recipes from around the world brought right to your kitchen table Create your very own spice mix for your perfect curry
Hands on course
Learn new techniques.
Course Content includes:
1. Sushi
2. Peach, feta, pecan and parma ham salad
3. Ravioli
4. Thai curry, with your own spice mix
5. Boxty potato, for the perfect brunch
6. Surf and turf
7. Churros with a decadent chocolate sauce and many more exciting recipes.

Next Course Starts Monday 27th Sept. 2021                 10 weeks      €110        7:10-9:05pm
(Students will be asked to supply their own ingredients but can arrange for the tutor to purchase the ingredients for a small charge during the first class)
About the Tutor: Sonya Hylton
Sonya was an RTE "MasterChef" Top 10 finalist in 2014. She is a Cathal Brugha Street Graduate and is a Cooks Academy Cookery Course graduate. She has a passion for cooking and sharing her knowledge in a hands on fashion.