GARDENING FOR BEGINNERS
Portmarnock Community School Adult Education Programme:
Learn the fundamentals of growing plants (both edible and ornamental) successfully and of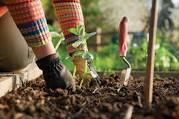 getting the most out of your space, no matter how small. The course aims to introduce participants to the basics of growing plants successfully and to give them a good understanding of how  plants function and what they require to grow well. The sessions will be mostly classroom based material with some practical elements, such as demonstrations of pruning and potting.
The course would suit people completely new to gardening as well as budding gardeners who are keen to expand their knowledge.

Next Course starts: Tuesday 20th September 2022          7:30-9:30pm
About the Tutor: Ms. Ciara Travers
Trained in the National Botanic Gardens, Ciara Travers is an experienced gardener and provides workshops and classes to a wide range of groups. Ciara is passionate about gardening, growing your own food and all things plant related!
Ciara started teaching in PCS last Autumn and ran a very successful first term.