History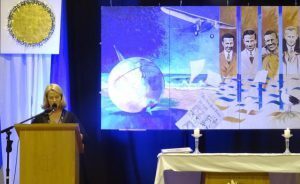 Portmarnock Community School – A history 
Portmarnock Community School was established in 1979 to meet the second level education needs of the town of Portmarnock.  It was one of the first community schools to be built in Ireland.
This type of school was new to the educational scene – a marriage between the voluntary secondary school and the vocational school.  It brought together the academic bias of the secondary school with the vocational thrust of the vocational school. This led to other innovations.  The first dilemma facing the Department of Education at that time was to decide who the Trustees were to be and who would run the school on a day to day basis.
The idea of the Joint Patron emerged in discussions.  The Archbishop of Dublin, in Portmarnock's case, the County Dublin VEC and the Loreto Sisters came together as the Joint Patron and together with parents and staff, formed the Board of Management which would manage the school.
The school is relatively young, particularly in comparison to some other Loreto schools; however it has established a strong academic reputation as well as a record in extra-curricular activities whether it be on the football pitch, volleyball court, stage or debating podium.
Twenty nine years is a short time to produce well known celebrities or leaders in the field of medicine, law or politics. However in each of these areas and indeed right across a range of professions including stage and screen our past pupils do us proud.
Our Loreto connection means a lot to us as a community, and we are sure that Mary Ward would be particularly proud of the achievements of our female students both academically and across the full spectrum of curriculum and extra curricular activities. In the annals of history, many Loreto sisters, who will be recorded for the contribution they have made to Irish education, have served on the Board in the school including Sr Eileen Randles, Sr Mary O'Connor and most recently Sr Marie Celine-Clegg.  Many other Loreto sisters have served in a variety of practical and advisory capacities including Sr Elaine McDonald and our Chaplain, Sr Gerardine Mullen.
There have been four Principals at Portmarnock Community School although the first Mr. Leonard only served for a few months while the school was being established in 1979. Mr. Pat O'Leary took over and was followed by Mr. David Sweeney. Mr. Pat O'Riordan was our next Principal followed by our current Principal, Ms Eithne Deeney. Mr. David Clarke , Ms Orla Molamphy and Ms Helen Dargan are the Deputy-Principals.
In terms of the Irish Education Landscape Portmarnock Community School is only a baby!  However our Year Books, website, school displays and trophy cabinets tell a story of success, fun and great promise for a bright future.