Portmarnock Community School Adult Education Programme:
New Course!
Learn the fundamentals of growing plants (both edible and ornamental) successfully and of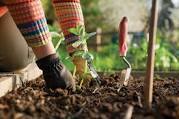 getting the most out of your space, no matter how small. The sessions will be classroom based to begin but will include practical, hands on experience as the term progresses. The course would suit people completely new to gardening as well as budding gardeners who are keen to expand their knowledge. Also a follow on option to participate in a Community Garden over the Spring and Summer months.
Ms. Aisling O' Donoghue          8 weeks                €90
Tuesday's 7th, 14th 21st, 28th March. 7:30 – 9:30pm 
Saturday's 1st, 8th, 22nd April, 6th May 10am-12pm