Portmarnock Community School Adult Education Programme:
This course will cover: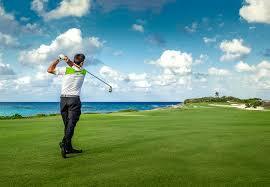  Technique for a variety of shots
 Club selection
 Introduction to the rules of golf
 Introduction to putting
 Introduction to short game (chipping, pitching, bunkers)
 Introduction to long game (driving, fairway woods, irons)
Each class will be limited to 6 persons per hour as this will allow greater benefit for each
individual. The first two classes will be in the school and the following 8 weeks will take place at Kinsealy Driving Range.

Starts Tuesday 26th Sept. 2017  10 weeks
Beginners 7:15-8:15 p.m 10 weeks €95
Improvers 8:15-9:15 p.m 10 weeks €95
(Extra cost of €9 for each of the driving range classes for balls, payable on the night
of the class)
About the Tutor: Iarlaith Keane
I am a Qualified PGA Golf Professional. I am a qualified level 2 golf coach and continue to practise my teaching skills to expand and grow my knowledge of the golf swing and how the golfers mind works. I really enjoy coaching the game of golf and helping people improve and enjoy the sport. I also hold a diploma in Sports Psychology and practise some of these techniques in my own coaching.