Indian Head Massage
***This class is not running in Autumn 2022- keep an eye out for future terms***
Portmarnock Community School Adult Education
Indian Head Massage
A superb treatment to ease anxiety & stress, also headaches, sinusitis, muscle pain and tension. Ideal for beginners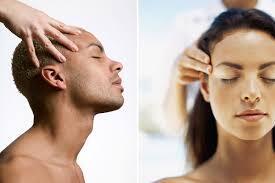 and qualified therapists.
We will cover massage of the head, neck, shoulders and face. Also included are energy techniques, introduction to essential oils and introduction to marma points.
This is an ideal course if you are a complete beginner and want to treat your family and friends. It's also ideal for therapists as you will be able to get insurance to practice. Please wear loose comfortable clothing so you can uncover your shoulders for the treatment. You will need 2 bath towels.
Next course: TBC        €110
Optional extra: Lifetime access to a video of the techniques. Perfect for a refresher. €15
About the Tutor: Ms. Jenny Sheridan
Jenny Sheridan has been a holistic therapist and tutor since 1997. In that time she has trained over 300 practising holistic therapists and introduced many more to the joys of aromatherapy.
She has qualifications in aromatherapy, clinical aromatherapy, holistic massage, sports massage, Tuina acupressure, pregnancy massage, Indian Head massage, reflexology, Reiki, IET, natural facial and holistic facial.  Her teaching qualifications include a teaching diploma from ITEC, an assessor's award from VTCT and a train the trainer certificate from FETAC.
Jenny has taught in a number of community schools, private colleges and run her own centre, Essentials Holistic Centre for over 7 years.